These notes are oriented toward using the Roku 3 Streaming Player to view content on a Plex Media server. Some of the links will take you to a different page.
Watching episodes of a television show
We're going to take the example of a series named, Foyle's War. I have 8 seasons each with 3-4 episodes.
Here's what I see on my Plex server's filesystem, exactly in order:
Understand that season 0 is where the "specials" go. In the case of Foyle's War, there are two interviews with the show's writer and a recap of seasons 1-6, the seasons that portray what happened during the war, for those who are just coming back for the new seasons, produced years later after the first six, where Chief Inspector Foyle is a sort of spy at the beginning of the Cold War.
Here's what the series looks like from my browser looking directly at my Plex server. I could watch them from here using my browser.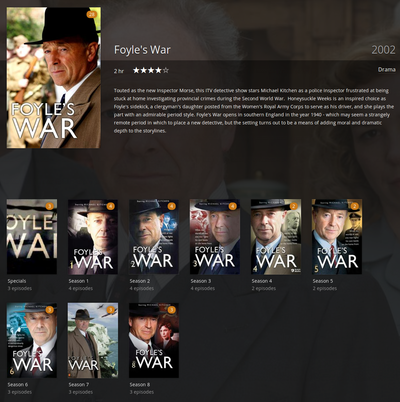 But, here's what it looks like on the Roku. The confusion lies in selecting "All episodes." If you do this, you're going to see a myriade of thumbnails saying, "Episode 1, Episode 2, Episode 3, Episode 1, Episode 2, Episode 3, Episode 4, Episode 1," etc. This isn't too informative and it will be very hard to remember where you if ever you come back to the series after watching something, a power outage, etc.
The solution is to follow these, illustrated steps instead:
Turn on television, choose the HDMI source that will get you your Roku-3 box.
Select the Plex channel on Roku.
Find and select TV section on taliesin.
Find Foyle's War in list of thumbnails and select it.
Don't select "All episodes" as shown here. Instead, select "Season 2" or whatever season you're currently on.

So, choose what you watch by season and remember what season you're on. Write it down on a piece of paper near your Roku if you like.

Choose the first episode of that season, then later the second episode, etc. Here I'm selecting episode 2 in season 2.
To use Roku's USB port to watch a video from, e.g.: a thumb drive, you need to install the Roku Media Player application. I'm pretty sure it costs nothing because I already have it on my Roku and I've never paid for any channel or application I use yet.
The most common (and frustrating!) Roku problem is losing pairing between the Roku and its remote.