Notes on the Roku 3 Streaming Player

Russell Bateman
July 2014
last update:
These notes are oriented toward using the Roku 3 Streaming Player to view content on a Plex Media server. Some of the links will take you to a different page.
Table of Contents
Watching episodes of a television show
We're going to take the example of a series named, Foyle's War. I have 8 seasons each with 3-4 episodes.
Here's what I see on my Plex server's filesystem, exactly in order: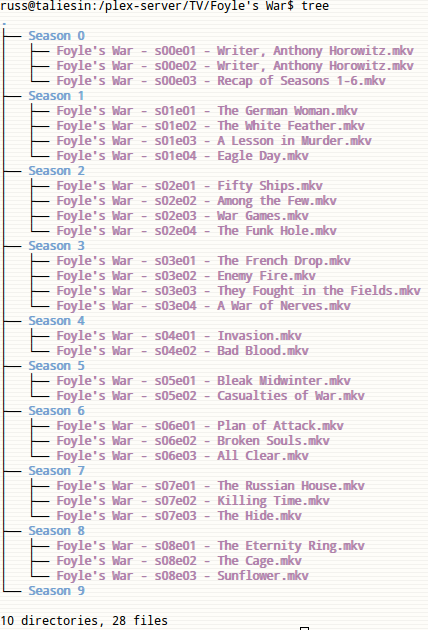 Understand that season 0 is where the "specials" go. In the case of Foyle's War, there are two interviews with the show's writer and a recap of seasons 1-6, the seasons that portray what happened during the war, for those who are just coming back for the new seasons, produced years later after the first six, where Chief Inspector Foyle is a sort of spy at the beginning of the Cold War.
Here's what the series looks like from my browser looking directly at my Plex server. I could watch them from here using my browser.
But, here's what it looks like on the Roku. The confusion lies in selecting "All episodes." If you do this, you're going to see a myriade of thumbnails saying, "Episode 1, Episode 2, Episode 3, Episode 1, Episode 2, Episode 3, Episode 4, Episode 1," etc. This isn't too informative and it will be very hard to remember where you if ever you come back to the series after watching something, a power outage, etc.
The solution is to follow these, illustrated steps instead:
Turn on television, choose the HDMI source that will get you your Roku-3 box.
Select the Plex channel on Roku.
Find and select TV section on taliesin.
Find Foyle's War in list of thumbnails and select it.
Don't select "All episodes" as shown here. Instead, select "Season 2" or whatever season you're currently on.

So, choose what you watch by season and remember what season you're on. Write it down on a piece of paper near your Roku if you like.

Choose the first episode of that season, then later the second episode, etc. Here I'm selecting episode 2 in season 2.
Using Roku 3's USB port
To use Roku's USB port to watch a video from, e.g.: a thumb drive, you need to install the Roku Media Player application. I'm pretty sure it costs nothing because I already have it on my Roku and I've never paid for any channel or application I use yet.
Turn on television.
Set source to the HDMI port that the Roku is plugged into.
Boot Roku, wait for screen.
Use the left arrow button on the Roku remote to get to the leftmost column.
Select Channel Store.
Look for and select the Roku Media Player channel/application.
Live example setting up the Plex Media application on Roku
Launch Roku.
Launch Plex application.
Click on Sign In.
Click on (the next) Sign In button you're offered.
4 characters are presented by the Plex application to use on your phone or computer where you will have logged in as your Plex Media user. These are the next steps:
Go to http://plex.tv/link. (You won't get there because you'll have to put in your username [or e-mail address] and password.)
Sign in with username and password. This is made awkward by your browser which will offer you Google and other ways to sign in in an effort to confuse you. These are not what you want, but only Username and Password. Ignore all else. (Then it will drop you on the splash page and you'll have to repeat your attempt to go to the link URL.)
Go (again) to http://plex.tv/link.
Type in the 4 characters from the Roku/television screen (what this whole procedure is really about).
Choose server (russellbateman tol-eressea)
Click Continue.
Click Finish.
Click Done.
If you never log out of the Plex application, you'll never have to do this again.
How to turn on subtitles for a movie or show...
...on Roku.
Before starting the show (or, after stopping and backing out of the show), find and click the More (or ...) button.
This will display many options, but the one you want is Playback Settings.
This will display more settings including Streaming.
Use the right arrow to get to Subtitles.
Choose to turn Off subtitles or subtitles from any language listed.
There is, in theory only, the ability to go find subtitles out there in the great big world. I have never found that this capability leads to anything good.
Links and Troubleshooting the Roku 3
The most common (and frustrating!) Roku problem is losing pairing between the Roku and its remote. More on that in a moment.
A close second is losing the paring between the Roku and your home's wireless access point unless you've hard-wired your Roku 3 to your home Ethernet cabling.
The Roku streaming device is like a little computer, i.e.: a node on your home network. Because its operating system is primitive, unlike Windows, Linux or OSX, there's no easy way to intervene when it loses configuration, particularly when it loses connection to your wireless access point.
Re-pairing with your wireless access point...
You need to disconnect the Roku from its power source, then plug it back in forcing it to reboot. At that point, you'll see it reboot, then you can locate your home's wireless access point again, if need be. Usually, it's enough just to bounce (reboot) the device and it will pick back up with the configuration it had.
Losing remote-to-device pairing...
A browser-based remote, http://remoku.tv/, exists, but its scan feature will probably not find Rokus on your network; unless you happen to know the IP address of your Roku(s), it's of little use.
Your home router's browser-based administration utilities may be useful in locating and troubleshooting a Roku device especially if it's obvious which IP address your Roku is at.
The Roku application for Android works nicely and can sort of help solve some issues. However, if your Roku isn't on the network, only the remote can solve that. If you can't pair your Roku and its remote, there is no hope.
Regain Roku-Remote pairing. Your remote no longer talks to your Roku device. Check these out:

Replace batteries.
Verify good battery orientation (polarity).
Re-pair remote:

Open the battery compartment and locate the pairing button.
Press and hold the pairing button for at least 3 seconds, front LED will begin blinking.
Cycle power to the Roku player, unplug the power connector then plug it back in.
During the start up process, the Roku remote should pair automatically to your Roku player, (the front LED will stop flashing.

Roku: About your remote. There is also a LiveChat from this page to which you have access. It is apparently active 24 hours and informs you how deep you are in the queue as well as approximate wait time.
This is my side of a conversation with Kamlesh from the UK.

Roku 3 with remote headphone jack. I own two, over a year now.
Only once or twice have I needed to re-pair.
I had a particular nasty time re-pairing them last night--only one worked.
New batteries.
Correct battery polarity.
20 times following instructions on page.
Have the defective device configured on wireless; the address is now bad
because I changed my router out though the wireless it's connected to is
the same.
New network is 192.168.1.X, old one was 192.168.0.X
---------
Oh yeah, the remote was working fine yesterday until the network change.
---------
One works, I had to try to re-pair about 8 times. The other one refuses to accept re-pairing.
I followed the instructions on this page over and over at least 20 times now: Pull batteries, replace them, engage pairing on remote, cycle Roku's power and then wait. Pairing never occurs.
---------
And yes, the remote LED still flashes for a long time after the Roku displays the channels screen, but remote does not control the Roku.
---------
I pressed the A button and held it, then I pressed the B button and, still holding both, pressed the pairing button. I believe the LED winked twice, then stopped winking.
---------
Now please try the below step and check if the remote works:

1) Remove the batteries and insert them.
2) Press and hold the black pairing button for 10 seconds.
3) Please unplug the power connector from the back of the Roku, then reconnect and wait for it to power up.
---------
Now the LED doesn't wink at all. Roku came up, displayed channels, but remote still doesn't control it.
---------
May I know the brand name of the router? The reason I am asking you for the router name is because the Roku 3 remote works on wifi direct technology. As you stated that you have changed the networks, there might be some wireless interference between the remote and the router which is causing this issue. We can try basic changes on the network and check if it helps us to fix the issue.
---------
Linksys Wireless Access Point. But remember I said I also have it connected via cat-5 cable to the router--besides its original, wireless connection.
---------
Okay. Is the Roku now connected wired or wireless?
---------
Both wired and wireless.
I see green lights on my switch where the Roku wired is plugged in.
---------
Note that my other Roku 3, which is working, is presently connected only via the Linksys wireless access point.
Yes, I will unplug.
---------
No, don't unplug.

Because we are not sure if the Roku is now connected wirelessly to the network or wired to the network.
mNow please open a new browser and enter 192.168.1.1 on the address bar and see if you get the Linksys router setup page.
---------

The technician suspects wireless interference.
What does Roku 3 do that Roku LT does not? When talking about the channel both are the same, but the Roku LT does not have Ethernet port or the USB port as the Roku 3 does. The LT also uses the standard remote and does not have headphone jacks.